Achieve your accessibility conformance goals with our Section 508 and WCAG compliance testing services.
Aurora provides website accessibility testing services to help government agencies, businesses, and non-profit organizations achieve compliance with accessibility laws (i.e. Section 508 and ADA Title III) and the W3C's Web Content Accessibility Guidelines (WCAG 2.0 / WCAG 2.1).
Our Process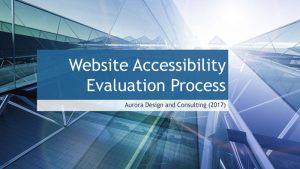 We employ a proprietary process that aligns with the World Wide Web Consortium's Website Accessibility Conformance Evaluation Methodology (WCAG-EM).
What's Included
At Aurora, we use automated and manual tests to identify and characterize accessibility barriers and WCAG failures.
Automated Testing
Automated accessibility testing to identify and document HTML/CSS syntax errors and WCAG failures. At Aurora, we employ a battery of automated assessment tools including:
HTML/CSS Validators – automated validators developed by the World Wide Web Consortium (W3C) to identify HTML and CSS syntax errors that might impact accessibility.
Wave Evaluation Tool – automated accessibility scanner developed by WebAIM to identify WCAG failures, and potential accessibility contrast problems requiring further investigation.
A11ygator – automated accessibility evaluation tool to identify WCAG failures.
Manual Testing
Manual accessibility testing (including tests with a screen reader & keyboard only) to identify accessibility barriers that automated tools might miss. At Aurora, we use the following tools to evaluate the accessibility of your website:
NVDA screen reader – free text-to speech synthesizer developed by NV Access. At Aurora, we use NVDA screen reader to evaluate the compatibility of your website with assistive technology devices.
Firefox DevTools – developer toolbox created by Google to allow developers to inspect and troubleshoot web page code. Our accessibility engineers use Google Chrome and Chrome Developer Tools to identify and inspect and confirm accessibility errors in web page coding.
Usability Testing
Usability testing by assistive technology users is critical to identify and document real world accessibility barriers that automated accessibility evaluation tools might miss. At Aurora, we have a network of assistive technology users who can assist in testing your website or application.

Real-Time Reporting of Accessibility Errors
Throughout the evaluation process, you'll receive real-time updates of accessibility test results. Our website accessibility evaluators will share results from automated and manual accessibility tests using cloud sharing services (i.e. Google Sheets), and document any accessibility failures for further analysis.
Automated and Manual Accessibility reports include:
Pass/fail grade for each test and web page
Summary of WCAG failures by page
Reviewer notes for further analysis
Accessibility errors identified during the evaluation process are fully documented for repair and remediation. Websites that pass all accessibility tests may receive a Section 508 and WCAG compliance certification.
Get Started Today
Take the first step to achieving your accessibility conformance goals, with our Section 508 and WCAG compliance testing services. Request a quote today.